The much-anticipated launch of PS5 created a lot of hype for console fans in 2020. Sony has met the expectations and delivered outstanding gaming experiences. Millions of fans enjoy other forms of entertainment such as watching movies, shows, or gambling. However, they were eager to get their hands on several exciting PS5 titles.

There are plenty of games available. Keep reading to discover the best PS5 games of 2021.
Marvel's Spider-Man: Miles Morales
Marvel's Spider-Man was a total hit on PS4.
Miles Morales is the perfect continuation to the series with a great storyline. Miles goes through a similar experience as Peter Parker and gets the amazing Spider-Man abilities. With Peter Parker away, Miles has to find a way to protect the city on his own. The storyline's unique and exciting.

With over 6.5 million units sold, it's evident that the game's more than entertaining. Stunning visuals keep players engaged with ray-tracing enabled while everything's running smoothly at 60 frames per second at 4K resolution.
Assassin's Creed Valhalla
Assassin's Creed is a popular game series counting over 15 standalone and spin-off titles that explore different times. Valhalla explores the Viking era during the invasion of Britain. The storyline is set in 873 AD. You follow Eivor's storyline as he gets in the middle of the Templar Order versus Brotherhood of Assassins conflict.

The open world provides plenty of exploration and counts numerous missions and other activities. Aside from a great story, you'll find fantastic gameplay featuring interesting mechanics. Assassin's Creed always featured breathtaking graphics, and like its predecessors, Valhalla delivers immersive graphics.

If you're a fan of the franchise, you've probably already experienced this title. If not, it should be on your wishlist.
Astro's Playroom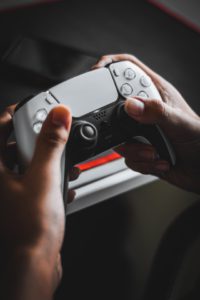 Astro's Playroom is the perfect game for those who enjoy playing platformers. The best part is that you won't have to break a dime, as the game comes preinstalled on every Sony.
Despite being only 6-hour long, the game features a unique style and is extremely fun.

You're playing as Astro, a little robot who explores different worlds. The game takes you through areas that are parts of the PS5 system. On top of that, you'll get to see the ins and outs of the controller. Different game parts will teach you about the unique DualSense controller features.

As your character jumps into different suits while you play, you'll rely on various controller functionalities, helping you figure out everything about the controller.
Demon's Souls
Demon's Souls is a popular PS3 game well known for its difficulty. If you're looking for a challenge while sitting on your sofa, you'll find it with this game. The remake for PS5 comes with incredible graphics that immerses players into the dark world of Boletaria.

You're the hero who's going to save the realm from the Old One, an immensely strong being that wants to devour the world. Enter the Deep Fog to find the boss and obliterate him once and for all.