Here's game number two for Wicked Pissah Games!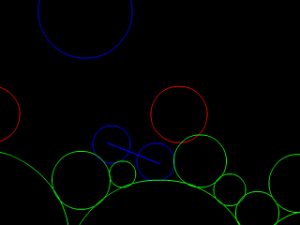 Pile O'Bubbles is part puzzle, part action, part strategy. You start with a couple of blue bubbles connected by an elastic thread, resting on a bed of small green bubbles. Your job is to get one of the blue bubbles into the blue target area. You do this by inflating the green bubbles to lift the blue ones up.
Sounds easy enough. But did you ever try to control a pile of bubbles? Pile them up, avoid the various obstacles, and make it to the target to complete each level.